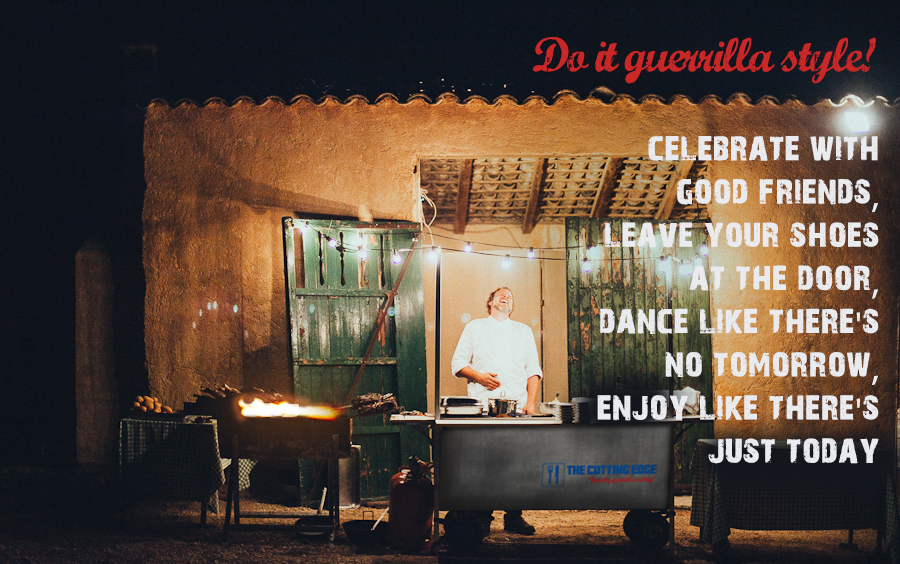 I LOVE CATERINGS!
To be able to cater for you on your event in Mallorca is something absolutely extra special; The nervous tension and excitement of knowing that we as a team only have one try to get your event just as you have been imagining it from the beginning. That's right, just one go, and no rehearsals or trials can prepare you for the amazing rush it is to get every little detail just right during the whole event.
I believe food should be presented beautifully and with that in mind, we've created a styling option which we specially love and goes brilliantly with the kind of events in Mallorca we cater for.  We call it guerrilla style, and is beautiful, colourful, fun & bold with a touch of messy! A sharing concept for non-boring parties; because we like to take formality out of presentation and replace it by authentic Mediterranean spirit.
Like any good host, we know that a great party usually revolves around the kitchen.  Thus I like to bring my tailor-made-kitchen to the front so guests can see the action behind it, soak up the exciting smells and feel more connected with the party.
Have a look at the menus, we got several amazing options! We make sure that there is something extra for everybody, being a nice little dinner with friends, an amazing "vintage-chic" wedding in Mallorca or that special birthday! Choose what suits you the best, fill in the contact form and we will get back to you in a jiffy!
SHARE THE GUERRILLA LOVE WITH US!